This month it has poured with rain. It really has tipped it down. When half term came round, we took one look at the weather forecast and realised we would have to grab any "cloudy day" time for all it was worth...
And so one day we headed to this cute little village, not far from us, played in the playground, took a little walk and stopped off in the loveliest little coffee shop for lunch.
On the way back to the car, I spotted the cutest little flower patch of wildflowers and we headed straight over. For once, I was determined to get an outdoor photo for our "Me and Mine" shot.
So here we go... our little family in February... making the most of Papa at home, and a little bit of cloudy weather!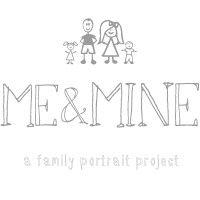 * * *
If you enjoy the blog, we'd love you to support us and cast your nominations for the "MAD (Mum and Dad) Blog Awards our way!
We're currently up for "Best Baby Blog" and "Best Family Fun" but you can nominate for any category you feel we fit into... Thanks to all of you who have already nominated! :D
Nominations close March 14th.